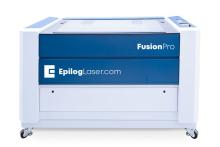 Usage Tips
First Run
You will need to add the laser to the Epilog Job manager on your first run of the machine. You may set the laser name to anything you'd like, however you must ensure the following settings are as listed:
IP Address: X.X.3.4 (defaults to X.X.1.1)
Model: Fusion Pro 48
Wattage 120
The laser cutter in the GVU Prototyping Lab is a high power (120 watt) laser cutter with a 48" by 36" cutting bed. It is often suitable to think of the operation of the laser cutter as a normal, black-and-white printer: a 2D files is used as an input, and marks are made on the material inside the device. The difference between the two devices, however, is that a laser cutter uses its high-intensity beam to burn away and remove material (a subtractive process) rather than placing ink on top of the material (an additive process). The benefit to keeping these comparisons in mind is the ability to generate your files for the laser cutter in much the same way as you would those for a print design.
The only requirement for files to be printed on our laser cutter is that they are in a format which can be opened by Adobe Illustrator. Usually, we recommend exporting files as a .SVG from whatever source program you prefer to use for design, then bringing the file on a flash drive to open in Illustrator on the lab computer. Once the file is in Illustrator, the only challenge is determining the proper settings for the laser cutter to ensure you cut away the right amount of material. Common settings for materials that we recommend for the laser cutter can be found below.
Please Note: The use of the machine's "auto-focus" feature can be set before running each job and is highly recommended.
What's the difference between vector and raster?
One consideration to make when choosing settings for the laser cutter is whether you want to perform a vector cut or a raster operation. The (simplified) difference between these two formats is that vector images are interpreted as solid lines, while raster images are interpreted as separate pixels. This is important for the operation of the laser cutter, as it changes the way the machine interprets the files.
Vector files instruct the machine to fire the laser at the specified power and speed along a set line. This makes vector settings primarily useful for cutting mostly or all the way through the material.
Raster files instruct the machine to fire the laser at the specified power and speed at specific points within the image. This makes raster settings primarily useful for etching/engraving designs into the surface level of the material.
Again, the output of the laser cutter is usually best thought of as a black-and-white image, where the laser cuts along the lines and leaves the blank space untouched. For raster processes, however, the laser can simulate a grayscale image, rather than strict black and white. The computer uses a process called "dithering" to create an illusion of lighter and darker areas by placing lower or higher concentrations of black "dots" across the image. If you use a pen and paper you can simulate this effect by placing a dense collection of dots together (which will appear nearly black) and expirementing with less and less dense collections of dots (generating lighter and lighter shades). The laser can then take the dithered image and burn very precise spots onto your material, generating a raster engraving that appears to have more depth and detail than otherwise possible.
Please note: you should always be aware of the safety considerations, like the ones listed below, for any tool you use. Additionally, these tips do not serve as a replacement for proper training. If you're unfamiliar with the operation of a tool, please ask a team member for help and guidance to guarantee the success of your project and the safety of everyone in the lab.
This list adapted from Epilog's website: Laserable Materials
 

300 DPI Raster

400 DPI Raster

600 DPI Raster

Vector (Cutting)

Material

Speed/Power

Speed/Power

Speed/Power

Speed/Power/Frequency

Wood

 

Wood

 

90/100

 

100/90

 

100/70

⅛" – 50/40/500

¼" – 20/50/500

⅜" – 8/100/500

½" – 8/100/500

Plywood

 

 

100/40

⅛" – 100/55/500

¼" – 10/20/500

Chipboard

 

 

75/15

⅛" – 30/20/500

Mat Board

100/25

100/2

100/15

50/15/500

Plastic

 

Acrylic

 

100/30

 

100/25

 

100/20

⅛" – 50/70/5000

¼" – 20/70/5000

⅜" – 8/100/5000

½" – 3/100/5000

Delrin (Seals)

100/25

100/30

100/35

50/20/1000

Polyester Cloth (Felt)

 

 

50/2

100/10/1000

Polyethylene Foam

N/A

N/A

N/A

75/25/1000

Corian /Avonite

75/100

80/100

85/100

⅛" – 20/100/5000

Laserable Plastic

100/25

100/20

100/15

30/10/5000

Other

Glass

100/100

100/80

100/60

N/A

Vegetable Tanned Leather

100/25

100/30

100/35

⅛" – 60/30/500

Marble

100/65

100/55

100/45

N/A

Melamine

100/70

100/65

100/60

N/A

Rubber/Stamps

60/100

70/100

80/100

50/100/100

Cork

 

 

 

100/10/100
The laser is a high powered beam that essentially cuts by burning away material. As such, it is possible for parts to catch fire if improperly calibrated. Please ensure the power and speed settings are properly set for your material and keep watch over your job the entire time it is running, ready to use the emergency stop in case of fire.

In the event of fire, there is a small fire extinguisher behind the laser cutter. Please notify the facilities manager immediately in the event of a fire.

As mentioned above, many materials catch fire very easily or will emit poisonous gasses if cut on the laser cutter. Do not use any material listed as unsafe or is unknown.
The laser has an air assist feature which helps reduce fumes as well as flames. Please make sure that both the laser cutter and the ventilation switch on the wall behind it are on and active prior to starting a job.
The Epilog Legend features both a class 4 and class 2 laser. While these are generally safe to observe within the normal operation of the machine, severe eye damage can occur with intentional and prolonged viewing of the emitted beam.